Building an Equitable Future for the Women of Pakistan

Building an Equitable Future for the Women of Pakistan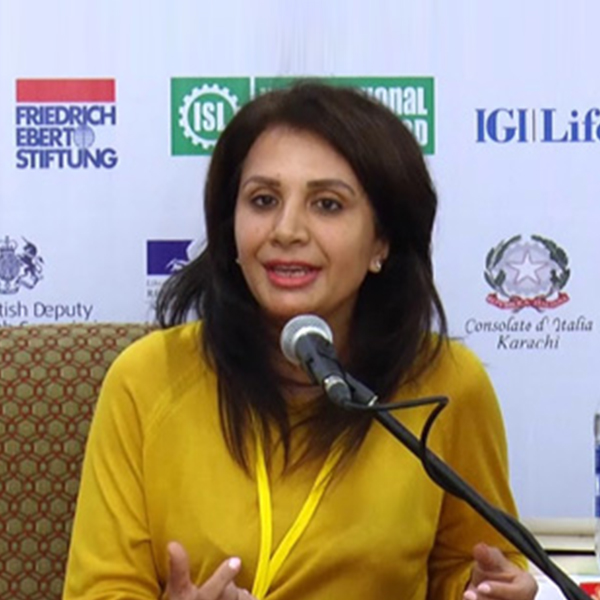 Building an Equitable Future for the Women of Pakistan
About the Author:
SDSB alumna, author, and development consultant Aysha Baqir (MBA 1998) shares her journey with us. As a young woman returning to Pakistan in 1995 with a BA in International Relations from Mount Holyoke College, MA, USA, Aysha Baqir had decided to enter the development field. Her mission—to ensure an equitable future for the women and girls of Pakistan.
Now a published author and development consultant, Aysha graduated with an MBA from Suleman Dawood School of Business at LUMS in 1998 and established Kaarvan Foundation, a pioneering economic development not-for-profit organisation focusing on poverty alleviation through the provision of business development and market-led training for girls and women.  "I realised that there are thousands of girls and women in Pakistan who are not a part of the economy. Kaarvan was born out of the objective to include them in the economic system. In 2008, we adopted the value chain development model. We were going to teach the woman entrepreneur to run and manage her own business, thereby facilitating change so that she becomes an independent entrepreneur."
Disillusioned with her initial experience in the non-profit sector, Aysha felt that her work was not making a difference. This led her to apply to the MBA programme at SDSB-LUMS. She understood that the poor and needy do not need sympathy and charity. They need to be equipped with skills, and the MBA programme provided her with those skills. "Even though the cases that I studied were based on different organisations, in my mind, I would be applying them to another sub-sector, i.e., the poor and the needy. The skills and understanding can come through cases or stories, and you need to be able to translate the skills in a language that the poor know, and it is not difficult. Through what I had learned, I was able to provide a tool kit to the women and girls interested in starting their own businesses." Aysha is very clear about her approach, i.e., when she plans a project, she also plans her exit. According to her, she works on development and not dependency.
 
"Development is something for which you need to equip yourself, through a certain skill set," Aysha stresses. She advises that young men and women interested in working in the development sector should be wary of confusing charity with development. It is important for people wanting to work in this sector to equip themselves with the necessary skills before working with the poor. "It is too dangerous to enter the world of development and make a mess of it. Learn what you want to do, train yourself in it, and give the poor the skills they need. When you get into it, have your exit plan ready. You do not want them to be dependent on you. That is not development." To date, Kaarvan Foundation has empowered 25000+ women in more than 1000 villages of Pakistan. Their key objective is to enable the women to take charge of their own lives.
 
In 2013, Aysha relocated to Singapore, and while she continued her work with Kaarvan as a member of the board of directors, she felt a different kind of calling. She was inspired and moved by the lives of the women she had worked with very closely in Pakistan and realised that there was a whole part of their lives that she had maybe not acknowledged earlier. Their stories stayed with her, and her debut novel Beyond the Fields came into existence. Beyond the Fields is the story of twin sisters Zara and Tara, daughters of a poor landless farmer. One day while playing in the fields, Tara is kidnapped and raped. Zara embarks on a quest to get justice for her sister. "This novel goes back to my mission of equity. There needs to be a system for women to get the justice they deserve. Rape is a silent epidemic, and as a society, we tend to shame the victim, and that is wrong." Aysha urges young men and women to read about these issues and to educate themselves. These issues need to be discussed with your family and friends, she says. "If you hear an inappropriate remark or comment, walk away if you do not wish to confront. Do not give anyone the legitimacy or power to talk about girls, women, or anyone for that matter in the way that they should not be talking," Aysha emphatically says.
Beyond the Fields is the story of Zara, her dreams and aspirations. Aysha has worked closely with the poor women and girls of Pakistan whom she lovingly refers to as her sheros. She is quick to point out that while the novel is fiction, the voices, dreams, and aspirations depicted in the story are very real. When asked about the highs and lows of her journey, Aysha smiles and says, "When I see the change in the lives of the women I work with, when I see a woman who is more in control of her life —that is an incredible high. There is so much potential in the women and girls of Pakistan."
Aysha Baqir's novel Beyond the Fields published by Marshall Cavendish is available on Amazon.