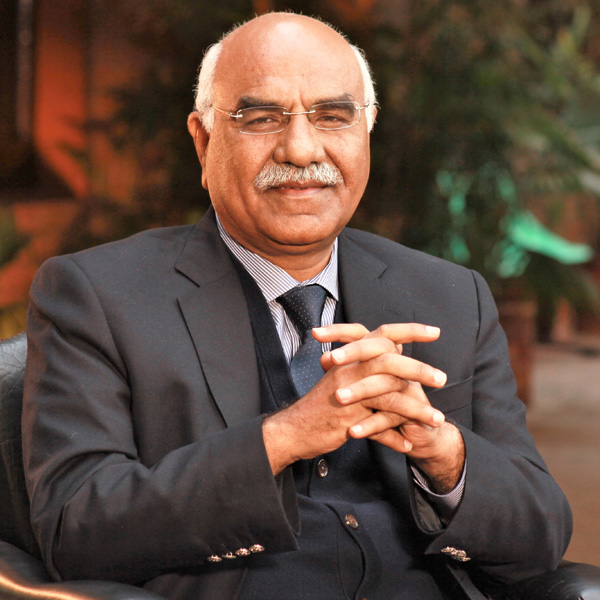 Empowering the Underprivileged
About the Author:
Empowering the Underprivileged: Dr. Amjad Saqib's Journey to Expand Financial Access
Tell us about the first loan that Akhuwat gave?
The first loan was given in 2001, it started with an interaction with a woman seeking a loan to provide for her family as her husband, the sole breadwinner, had died, and the responsibility of earning for the family fell on her. She approached me because, at that time, I worked with the Punjab Rural Support Program, which gave out small business loans in the rural villages of Punjab. I was deeply moved by the woman's difficult situation and presented an interest-free loan of PKR 10,000. While I had forgotten about the loan, the lady returned, as promised after six months and returned the full loan amount with tears in her eyes. The tears expressed her gratitude. She told me that the sheer amount of PKR 10,000 enabled her to purchase two sewing machines to start her stitching business and become financially independent. She returned that amount with one request that the money was given to another person who, like her, would benefit from it. This incident developed my trust in people and the system of interest-free microfinance. This became our organisation's first loan, leading to the beginning of Akhuwat's operations, which has now reached 5 million loans worth PKR 170 million, Alhamdulillah.
How is Akhuwat different from other microfinance institutions? 
Akhuwat is different because it provides a unique model opposite to the capitalist system and market economy, which usually profit by charging high-interest rates. Akhuwat's model is based on the universal concept of brotherhood. We believe it is essential to consider those less fortunate as our brothers and sisters and should help them without taking advantage of their situation. Even though this model is based on Islamic principles, it is not limited to Islam as all the religions in the world preach the same message: to care for others like you want to be taken care of. The main objective of Akhuwat is to provide interest-free micro-loans and financial access to the poor. 
 
Furthermore, Akhuwat uses religious places such as mosques, churches and temples as places of disbursement. This aids in reducing operational costs while creating a transparent and participatory environment. 
The loans given out are given to the family as a unit to ensure that the loan is being used for the benefit of the family. There is also a detailed check and balance system to ensure the efficient use and repayment of the loan. 
Akhuwat's operations rely upon its volunteers' passion, dedication and zeal, who invest their time, talent and resources to Akhuwat's cause. Akhuwat is a unique initiative because of its bondage with Mawakhat-e-Madina and accounts for the four pillars:
Iman or faith
Ihsan: to do beautiful things
Ikhlas or purity
Infaq: giving in the way of Allah
The pillars of Mawakhat, put together, create Ikwha or Akhuwat that transforms the spirit of solidarity into a brotherhood. Akhuwat takes its name from this concept, and through its operation presents a practical manifestation of Mawakhat.
What role does the engagement of religious institutions play in creating a societal impact in Pakistan? How did you achieve that with Akhuwat?
For us, religion is love, compassion, giving and empathy. It brings people together. Beyond worship, religious institutions are used as community centres to promote participatory development. As the house of God, religious institutions such as mosques, churches and temples can be utilised to develop a stronger sense of community and mutual support. In Pakistan, religious minorities, including Christians and Hindus, are among the most marginalised groups. To support these disadvantaged groups, Akhuwat has taken measures to ensure their inclusion. 
First, as a core value, loans are disbursed at places of worship, including mosques, churches and temples. Regardless of religious background, borrowers are welcome at the respective ceremony venue. This lays a network for socio-religious cohesion, interfaith harmony and acceptance. 
 
Second, special disbursements are held at Christmas, Easter and Diwali to commemorate events of all religions. This, besides economic facilitation, fosters religious harmony. 
Third, as part of group lending, potential borrowers are encouraged to include members of minority religious communities. 
 
Moreover, Akhuwat's education services have an intake quota for applicants belonging to religious minorities and groups. This provides students with an opportunity to understand and respect other religious groups from a young age. Akhuwat University is known as a 'Mini Pakistan' where students speaking different languages from all provinces of Pakistan come for the shared goal of pursuing their higher studies. 
 
Fourth, no discrimination on the basis of caste, colour, creed, gender or religion; in all of Akhuwat's support mechanisms, there are no biases during the selection of beneficiaries. Thus, although Akhuwat has been built on the Islamic philosophy of Mawakhat 'brotherhood', the message of solidarity with the poor is for all those who want to work to create a better world irrespective of their religious or ethnic differences.
 
The loan recovery rate for Akhuwat continues to be above 99% even today. How have you managed to sustain that? 
Akhuwat's borrowers express the purpose of acquiring a loan when they approach a branch for which they are catered accordingly. An elaborate process of appraisal is performed to determine the most deserving applicants. Akhuwat's loans are given to the family, male and female, and both heads of the household are required to sign the form irrespective of who is taking the loan to create a sense of accountability.
 
When potential applicants approach a branch to acquire a loan, they submit an application form available at the branches. The application then goes through a thorough background check to determine the applicant's social and economic status. From thereon, the Akhuwat staff visits the applicant's home and neighbourhood to determine his/her social standing in the community. Afterwards, the staff initiates the financial appraisal, where the applicant's financial status is gauged through visits and informal interviews at his/her workplace and neighbourhood. Information about any previous or existing loans acquired by the applicant is also gathered before their request for a loan is accepted. 
 
Loans are disbursed to a group of 5 applicants. Group lending enables group members to resolve any social and economic problems that might befall group members through mutual understanding and decision-making, acting as guarantors for each other. In the case of individual lending, the applicant is supposed to provide two guarantors to get the loan approved. 
 
After a thorough background check, the Loan Approval Committee approves the loan based on the information gathered. The loan disbursement ceremony is held at a mosque or other religious spaces in the community, and the loans are released to the borrowers. The ceremony includes a session on the philosophy and values of Akhuwat and the civic responsibilities of individuals as part of society to instil a sense of responsibility among borrowers. 
The loans are returned through monthly instalments over a period of 1 to 3 years, depending on the loan amount. These instalments are returned to the nearest branches. The branches also provide our beneficiaries business advice if they need it and also monitor their progress by conducting fortnightly visits.
 
As mentioned previously, in addition to returning their loans, our borrowers also donate whatever they can to Akhuwat or any other charity to help others. The relationship of solidarity and mutual respect that Akhuwat maintains with its borrowers creates a bond of brotherhood that promotes the culture of lending a helping hand to those in need. This resonates with one of Akhuwat's core principles, i.e., turning borrowers into donors.
The loan officers frequently visit and interact with the borrowers. Once the loan is returned, it becomes part of a revolving credit pool. This revolving fund is then used multiple times over many years to provide loans to other deserving members of society.
Can you tell us about the challenges you faced as your organisation expanded? 
Yes, we face challenges daily, but we see them as opportunities. We started with USD 100, and now we have expanded to USD 100 Million with a recovery rate of 99.9%. When we started, many people had apprehensions about the sustainability of this model. Our model is unique and one of a kind. This model is not an extension of the capitalist system and market economy. This is a model based on the principles of brotherhood and solidarity. Thus, the first challenge we faced was making people believe in the sustainability of this model. 
 
Another hurdle was to minimise our operational cost. The traditional microfinance model charges the borrower with the financial and operational costs, as there is no collateral. Akhuwat believes that the one lending the money should bear these expenses. We couldn't eliminate the operational cost, but we minimised it. Akhuwat owns no cars and has minimal furniture in our loan branches which have floor seating arrangements. We use religious places as points of social and economic intermediation. This includes mosques, churches, and temples as places for loan disbursement. This ensures there is participation, transparency as well as accountability. It generates goodwill in society and the community. 
 
Lastly, volunteerism is a core practice in Akhuwat's philosophy and practices. Our volunteers hail from all walks of life, bringing their diversified perspectives to Akhuwat and serving as agents of change. Akhuwat believes an ideal social enterprise is a blend of committed volunteerism and necessary compensation for services. Akhuwat's projects have a bottom-up approach that engages volunteers who interact with beneficiaries, conduct field visits, and participate in sensitisation campaigns.
Akhuwat has been steadily moving forward in its vision and mission despite the changes in the political landscape of the country. What lessons can NGOs dependent upon government funding learn from Akhuwat?
Since its beginning, Akhuwat has always been persistent in working on social inclusion. Our mission and vision always have been of Mawakhat. The trust built on our credibility is the sole reason why Akhuwat was never affected by external factors such as changing political situations. Problems and challenges do arise, but we see those problems as opportunities. Every partnership brings challenges, but your belief in your mission overpowers all issues. 
 
However, I would encourage these organisations to be more self-sufficient and independent to continue doing the amazing work unperturbed by the country's political situation.
You said that you believe in participatory and inclusive development. Can you shed some light on this?
Akhuwat has adopted the participatory development model because it aims to involve the underprivileged and deprived community in initiatives and programmes being developed for them. Akhuwat believes involving the local stakeholders makes the program more durable and effective. 
We believe any development effort should aim to create a local support system aligned with local traditions and faith. 
 
Akhuwat is of the opinion that participatory development attempts to empower the poor in developing their visions and set their own development objectives and agendas, rather than just providing them 'a say' in development programmes. Akhuwat doesn't want to make decisions for the less privileged but rather empower and enable them to make their own decisions. Moreover, our different programs like AIM (Akhuwat Islamic Microfinance), AES (Akhuwat Educational Services), and AKSP (Akhuwat Khawaja Sara Support Program) are living examples of our efforts. 
 
Similarly, inclusive development is practised as Akhuwat caters to all individuals irrespective of their caste, colour, religion or race. It is a model in which everyone is welcome to the organisation and treated as a part of the growing Akhuwat family.
Tell us about your book on entrepreneurship titled 'Kamyab Log'. What makes a successful entrepreneur?Kamyab Log is a book on entrepreneurship. It presents 24 essential attributes of 30 wealthy people from Chiniot. Chiniot is a city 38 km northwest of Faisalabad; notwithstanding its poor infrastructural status, it has been the birthplace of business visionaries, who, over a century and a half, have risen as great businessmen and industrialists and hold the title of "most philanthropic & extremely rich persons". This book is uniquely intended for individuals who seek to do remarkable things in life.
 
25% of Pakistan's population (55 million people) lives under the poverty line. Merely providing food and clothing to them is not enough but providing them with the skills to enable them to become financially and socially inclusive is required. The poor in Pakistan do not lack ideas but rather the resources to actualise those ideas, and through social and financial inclusion, those resources can be provided. Financial inclusion is a long-term developmental intervention which aims to solve the prevalent issue of inter-generational poverty. 
 
What young entrepreneurs need is passion and willingness to change and grow. An entrepreneur should have a strong will and determination to reach his/her goals to succeed. I want our future generation to follow creative ideas and work persistently towards their goals. This is what this story of great Chinioti businessmen entails.

 
LUMS has been honoured to be able to include you in its teaching and research. Can you share the role LUMS has played in your journey?
It has been an honour for Akhuwat to partner with such a prestigious institution in the areas of research and teaching. LUMS has opened a lot of networking opportunities for Akhuwat as it is home to a very diverse community. Moreover, whenever I visit LUMS and interact with the bright minds studying there, it gives me a lot of hope and optimism for our future generation. It gives me immense pleasure to see these young minds flourish intellectually. Not only that, each interaction teaches me something new; I am reassured about the future of Pakistan.
 
I would love to continue and expand this collaboration in the coming years. I would like to see more LUMS graduates work in the development sector and help us reach our vision of a poverty-free society. I must appreciate the faculty, too, for their hard work and for creating a great island of learning.

 
Akhuwat has diversified into other areas, including education and health. Why did you decide to expand into these areas rather than continue focusing on microfinance? 
The concept of Microfinance assists a part of society that is in dire need to attain economic stability. Akhuwat's mission has always been centred around including marginalised groups in streamlining development. The success of Islamic Microfinance allowed us to explore and implement different and advanced development strategies. Poverty is a multi-dimensional issue which requires different strategies. Education and health are critically important to achieving the vision of a poverty-free world. Hence, Akhuwat ventured into education, believing that when loans can be provided without interest, education can be provided without charging a fee. 
Hence, Akhuwat Education Services (AES) was founded to provide quality education to those who cannot afford to pay fees. Similarly, expanding beyond education, Akhuwat's work in the health domain has created a clothes and food bank and a program to support and uplift transgender people. Akhuwat collaborates with different institutes and has established a few centres for mentally challenged people. All of Akhuwat's programs are a means toward a common goal; a poverty-free society built on the principles of compassion and equity.
 
What is the Khwaja Sira Support Programme? 
A part of our society is deprived of all kinds of rights and faces the horrors of poverty in its true form. These individuals are the transgenders or the khawajasiras. They have been deprived of empathy and basic facilities for decades, and endure verbal and physical abuse. These communities are vulnerable, while different regions of the world are progressing to become more inclusive and tolerant; unfortunately, in South Asian communities' transgender people still live-in extreme misery and pain. 
 
The Akhuwat Khawajasira Support Program (AKSP) is centred around providing these individuals with acceptance while providing them with financial stability. Established in 2011, this program provides medical, social, and economic support to the khwajasiras all around Pakistan. Under this program, we have around two thousand active registered Khawajasiras that are getting a monthly stipend and monthly medical check-ups. Apart from that, we also have young and educated khawajasiras who are looking for decent income opportunities. In collaboration with the Fountain House, this program strives to provide the basic facilities of life to the khawajasiras so they can also play their part in being an integral part of society by creating a safe and inclusive community for them.
You have transitioned from the CEO of Akhuwat to Chairman. What was your succession planning journey like? 
I traversed different career paths to be where I am today. I studied medicine at King Edward Medical College. I left it to be part of the Civil Services of Pakistan because I wanted to impact people's lives. After many years as a civil servant, I established Akhuwat with the help of friends, mentors and volunteers because I wanted to realise the vision of a poverty-free society. All of this has not happened overnight; it took many years of struggle and perseverance to be at the stage where Akhuwat is. The credit for this success, Alhamdulillah, goes to Akhuwat's employees, volunteers, donors and friends all around the world who have contributed to its success. It is not the position or authority that builds institutions; it is the benevolence, gratitude, solidarity, compassion and empathy. Everything evolves with time; my journey is and always has been for the cause and not the power. Alhumdulillah, Akhuwat's operations are in good hands, and the team has decades of experience in carrying out its operations successfully while also expanding. A leader's primary goal is to build a team and empower it. I have full faith that the Akhuwat team will continue to do so InShaAllah. Although my title has changed, I am as committed to Akhuwat's cause as I was the day Akhuwat was founded.
What advice would you give to our students who want to give back to the society and work towards alleviation of poverty in Pakistan?
I believe everyone has a role to play in fighting rampant poverty in our society, especially when our economy has been experiencing a downward turn. The philosophy of Mawakhat, the basis of Akhuwat's principles, teaches everyone to support those who are less fortunate. One does not need to wait for a great opportunity to contribute to this cause. Anyone in any capacity can play their part. Look around you; I am sure you will find people who need your assistance. It is important that we create an impact in the lives of those people who are underprivileged. Extending a helping hand not only helps them but also brings you closer to being a good human. You do not have to be a great leader or create an organisation to do that. Every person can make a difference, and everyone should try. Empathy and compassion are two cardinal principles we all must have.
 
If you want to work for poverty alleviation systematically, there are multitudes of ways which you can choose from. I invite you to come and join us, share your creative ideas and let's work together to make this world a better place to live in.