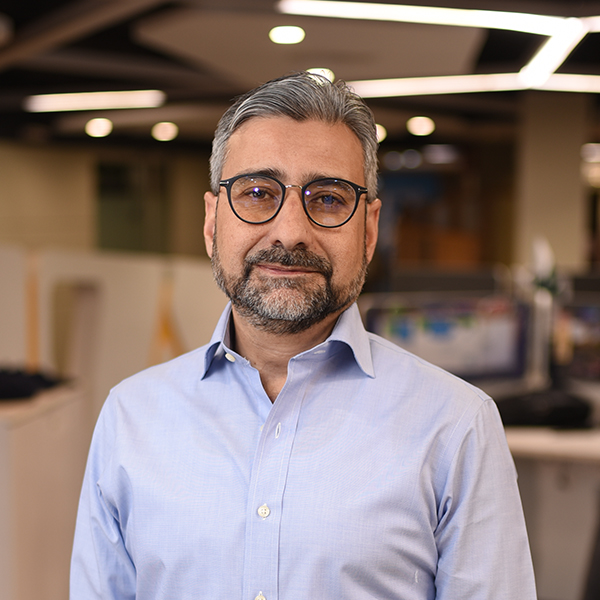 Industry Outlook Amid the Pandemic
About the Author:
Industry Outlook Amid the Pandemic: A Conversation with Amir Paracha, CEO Unilever Pakistan
Q1. Amir, you joined Unilever Pakistan in 2000 and twenty years later you are the Chairman and CEO. Tell us a little bit about this journey.
My journey with Unilever Pakistan began in 2000 when I joined as an Assistant Brand Manager on Wheel after having spent a few years at Shell. As a Marketer, I have had a deeply fulfilling career and while twenty years may seem like a long time, the many opportunities and challenges that have come my way have never let the pace dull down.
Towards the year 2006, I took on an international role as the Marketing Director for Unilever North Africa Middle East for GCC cluster, which was invaluably insightful both on a personal and professional front. This assignment was an immersive experience in a new culture, a diverse mix of consumers, and a different portfolio. There, I also happened to work with Sanjiv Mehta, who was our CEO then and learned a lot from him as his protégé. Years later now, Sanjiv is once again a leader in his role as President for South Asia, and I am glad we are working together closely.
There was also the matter of moving with family, but with the support of my wife, it was a smooth move, and we enjoyed the time we spent there. However, home is always in Pakistan, and when I returned, it was with gladness to lead the Home and Personal Care Division. But it is also important to diversity one's leadership and functional experience, which is why the next role I took on was as the Vice President for Customer Development (CD) or as it is more commonly known in Pakistan, Sales. This is a decision that I look back on with fondness as the degree of innovation and purpose that I feel I was able to drive in CD is unparalleled. Leading sales can be compared to leading a military force on the frontlines, and it as rewarding as it is challenging. The search for disruptive business models and inclusion underscored my experience in the function.
At the start of this year, I took on the role of Chairman and CEO of Unilever Pakistan from Shazia Syed, who was the CEO for Pakistan and is someone I have known as a valued peer for most of my career at Unilever. I appreciate the trust with which Shazia passed on the responsibility to me.
 Q2. You took on your new role in February 2020, and in March, the country was hit by the Corona pandemic. As a new CEO, how did you deal with this completely unforeseeable situation?
One could say that starting a company leadership position at the cusp of a reality-altering global pandemic is not something that all leaders may be able to claim. At Unilever, purpose is our North Star.
As a leader, I felt it was my responsibility to prioritise purpose and people, ensuring the safety and wellbeing of those within our value chain, the communities we reach, and the consumers who have placed their trust in us for decades. This was driven through continued essential operations as well as taking a lead in relief efforts in this hour of need. My teams have been instrumental in the success of this vision. With #UNILEVERFORPAKISTAN, we created a movement of support to protect lives and livelihoods. This fuelled momentum for further corporate response to support the deeply strained healthcare workers and infrastructure, provide urgent food relief, and mainstream hygiene awareness through our communications.
It was also essential to streamline our response as a business, operating through the lens of agility, innovation, and prioritisation. This required a conscious decision to adopt even higher levels of trust in my teams, empower them in their roles, and fast track decision making as an organisation.
Q 3. Can you tell us about Unilever's response to the pandemic in terms of its employees, especially the sales team?
As I said, given the value and need of our portfolio, the response of our people was motivated by a sense of national duty and human connection beyond just their work. Every person, across the business, has played a pivotal role in this by unlocking the exemplary courage, resilience, and selflessness of a true Pakistani during this time.
With soaps, sanitizers, and disinfectants being key to preventing the spread of Covid-19, our employees felt it was their national duty to go to the factory or out in the field and ensure that stocks were available and there was no panic in the market. From the factories and field teams to those working agile, our people worked around the clock to ensure that essential goods were available. While theirs was an essential service, we, too, had to do our part to ensure that they and their families remained safe. As part of a global organisation, we had strict health and hygiene measures in place. All we had to do was ramp up the controls. An Incident Management Team was mobilised immediately to manage the upgrade in safety standards.  
We also took a proactive approach to counter potential infections amongst our employees. We put in place a COVID Task Force at the factories. This team met daily to ensure audits and reviews of our protocols and keep tabs on any potential hot spots.
Employees were given multiple trainings, awareness sessions, and daily talks on preventive measures both within the factory and in their personal spaces, from across all levels of leadership. In addition to training, we provided a 30-day inventory of PPEs for all factory staff across the country. Investing in the safety of our people during this time is imperative for their wellbeing and the sustainability of our operations. When people are protected, they do well.
Q 4. You said in one of your interviews that the key metric to success is how to deal with uncertainty. A crisis like this places extraordinary demands on the leadership of an organisation. What do you think are the key things that leaders should keep in mind when responding to such a crisis?
 
COVID-19 takes away the safety net of familiarity, and in the constant state of uncertainty, it is crucial to have an appetite for rewiring our DNA and tapping our resilience. Businesses must adapt to fulfil emerging needs of the consumers and retain their relevance.
Our survival instinct must kick in to protect the core with effective decision making and prioritisation. Remaining in touch with how consumers are responding to the crisis will guide actions for the short and long term by protecting profitability through ramping up core services and shielding it from the impact of the legs of the business that are in weaker demand.
For the future, up-skilling and re-skilling of people is extremely relevant. Leaders should find innovative ways to fulfill the increasing learning needs of the workforce. It is also important to introduce flexible new age working models that can tap talent virtually. Leaders should also protect those in our extended value chain as well and work with a focus on health and livelihoods to empower those most in need right now.
From the time I was hired within Unilever by Musharraf Hai, whom I credit deeply for many learnings in my career, I have observed that different challenges come to different leaders in different ways. From Musharraf to Ehsan Malik, both former CEOs under whose leadership I have worked, I have observed that courage, composure, and decisiveness are three traits, the value of which remains relevant no matter what kind of difficulty one is surrounded with as a leader. And I hope that as the leaders of today, we can continue to find these qualities within ourselves.
Q 5: What changes do you foresee in the business world in terms of work culture as a result of this global crisis?
It is still early days to conclusively say how culture will be impacted, but within the past six months, we have observed a significant shift in the modern-day workplace and ways of working. While some companies had more progressive views on agile and flexible working, others have looked at the model with an eye of distrust, being forced into a reality where virtual is the only possible mode of operation has ensured an attitude shift. There is now a focus on safety and health as well, which may not have been priorities for organisations previously.
During this time people have also had to manage the increased responsibilities of their personal lives, especially in an environment where many of us are making do without house help and are separated from families. This has called for a greater level of understanding from employers to accommodate their people. This flexibility goes in hand with the amped-up focus on helping people take better care of not only their physical but also mental wellbeing.
With this said, I recognise fully that this is a tough time for businesses and their ability to retain their people or keep intact the social fabric of their company culture. Our focus should be on innovatively exploring solutions that can help keep jobs until the worst of this time has passed. This will require investing in the wellbeing of people and setting benchmarks through the display of those leadership behaviours that are important at this time. I sincerely believe that going through the learning curve at this challenging time will contribute immensely to our culture and values in the longer run.
Q 6. You recently wrote that the normal is eternally evolving from the unthinkable to the usual. What is the New Normal for you?
 
The New Normal has us blurring the lines between work and home while developing empathy for each other's experiences. We are physically distant, but emotionally the gaps have been bridged through technology. Time at home has helped us reconnect with not just loved ones, but also old passions. Care, concern, and empathy have evolved significantly in the aftermath of this pandemic. We see a dynamic shift in human behaviours across a vast spectrum, and this is the New Normal. A year or even eight months ago if anyone had said that humanity would go through this unique collective experience, we would have laughed it off or included it in the plotline of an upcoming sci-fi thriller. Yet, here we are in a world that is moving from the unthinkable to the everyday. And I think this is what normal is, and ironically, normal itself is not constant.
Q7. You like to experiment with disruptive business models and have championed inclusion across the Unilever ecosystem in Pakistan. Can you tell us a bit more about your initiatives in these areas?
 
As purpose underpins our Company's journey, the values of diversity and inclusion are especially relevant to Unilever's evolution. And disruption is the currency of these times. While throughout my career at Unilever, I have made a conscious effort to bring these ambitions to life, within Customer Development (CD), our work has made waves across the Unilever world and served to put Pakistan on the map as a powerhouse.
In CD, I, along with my team, had the opportunity to embed inclusion in the everyday ethos of the function. This has led to exemplary programs for our extended field force and value chain. I am pleased to say that we could introduce a first of its kind health and educational uplift program in CD for our order bookers and distributor representatives who are our frontline soldiers. Through Shaadbad, we have helped DSRs in the thousands, offering them the benefit of health coverage for themselves, their spouses, children, and even parents. We have now also introduced subsidised education tuition fee coverage programs for our people.
We have enabled and encouraged people with disabilities to join our sales operations, helping ensure that they are also afforded work opportunities. We have also embraced the transgender inclusion agenda wholeheartedly, helping find, develop and employ trans talent in both CD and Supply Chain so that this highly excluded group can access job opportunities that are otherwise often denied to them. Every day we are working to ensure that the numbers are dialled up. This has been achieved through sensitization and maintaining a constant communication loop with those joining in such roles. This agenda has been claimed by CD in both extended and immediate teams.
Similarly, there is a definite whitespace in digital disruption in sales, both from an E-RTM and an E-commerce point of view as well as last-mile distribution approaches. During COVID, this has changed faster based on the consumer demand shift. E-Commerce also experienced the same surge as people shift to online modes of consumption and delivery. With Munchies, we set up both a unique partnership between an FMCG like Unilever and a tech partner such as VentureDive, collaboratively building a startup that is disrupting the impulse e-commerce category through an instant snacking delivery solution. This service within months has moved from 1,000 downloads to 20,000 and continues to scale.
We are also working on experimenting with blockchain and other digitization initiatives to transform the company in a way that allows us to stay competitive in the digital world.
Q8. Finally, what advice would you give our Class of 2020 having graduated during a global pandemic into an extremely uncertain world?
It is important to remember that while the challenge is massive, we have been through bad times with the unique Pakistani spirit of resilience intact and emerged battle-hardened and victorious before, and so shall we, once again.
For the youth, this is truly trial by fire. I urge you to look at this time as an early career test if you have joined or resumed work and are struggling with the way things have started. If you are still looking to find the right job, especially at a time when organisations are not expanding or recruiting extensively, it is important to continue upskilling and investing in your self-development and future proof your skillset.
The silver lining is that those who survive this will have both the professional integrity and personal strength to take on the challenges of the businesses of the future. Your ability to navigate this change will credit your employability.
Moreover, I firmly believe that whatever work you do should align with your purpose, and in this extended opportunity for reflection, commit to discovering your own. Introspect, and prepare yourself for work, which is aligned with your purpose and ambition. This is also a time for compassion for others, but also ourselves. Once we have passed through these times, they will be written and remembered as a case study for future generations both for corporate learning and seeking inspiration for the strength and evolution of the human character.