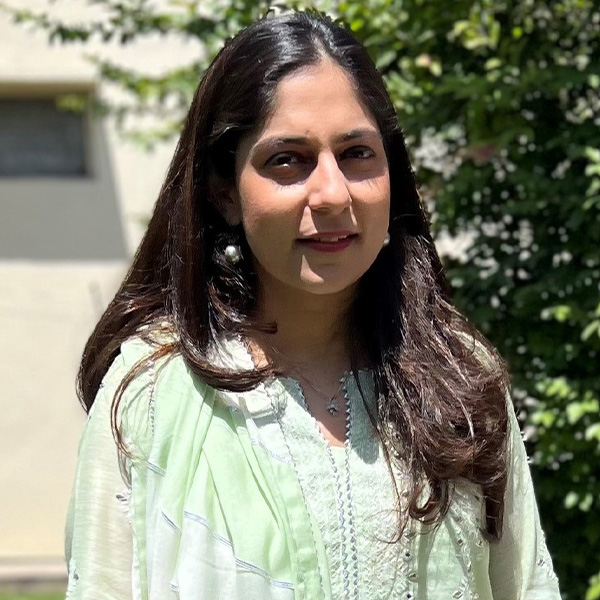 Safe Delivery Safe Mother (SDSM)
About the Author:
You graduated from SDSB in 2009 with a BSc Honours, Accounting and Finance degree. What are you doing now?
I am the founder of the Safe Delivery Safe Mother (SDSM) organisation, which is working to improve and strengthen maternal and reproductive healthcare across Pakistan. Currently, I am running SDSM, and alongside, as a development consultant, I advise governments and clients in Pakistan and abroad on health systems, gender equality, economic empowerment and private sector engagement to enhance social impact. I have successfully implemented public-private partnership delivery models that strengthen health systems, contributed to high-level policy dialogues, designed training curriculums, developed strategy and monitoring and evaluation frameworks, launched digital data reporting tools, conducted advocacy campaigns and built the capacity of community health workers and skilled birth attendants. Before this, I worked at McKinsey & Company, the World Bank and the Clinton Foundation in New York.
Can you tell us a bit about Safe Delivery Safe Mother and what inspired you to start this venture?
I started Safe Delivery Safe Mother back in 2017. I had recently moved back to Pakistan. I was working in New York then, and I remember feeling very lucky to have figured out that I wanted to work in the public health field. I was inspired and committed to making meaningful change and give back to Pakistan. So, when I came back, one of the key issues I saw in public health were the high maternal mortality and fertility rates in Pakistan. I spoke to people in this field and did a lot of research and what shocked me was that over 70% to 80% of maternal deaths are preventable and treatable.
The lack of healthcare facilities, education, malnutrition, poverty, and socio-economic challenges are some of the major contributing factors to Pakistan's high maternal mortality and morbidity rates. When I looked at the problem from a broader lens, there was a lot of scope for bold and innovative solutions in this field, and this is exactly what got me interested. Many people do not know that when you work in maternal and reproductive health, you essentially work on strengthening the public health system of an entire country. At the primary healthcare level, you see the systems that deliver healthcare, the pain points and access constraints, and the demand and supply challenges. I focused on these aspects, the appalling statistics and the scope for impact and outreach, which inspired me to start my own organisation. Currently, only a handful of local organisations work in this space in Pakistan.
What can be done to promote maternal and reproductive health that aims to reduce maternal mortality in Pakistan?
If we look at where Pakistan stands today, unfortunately, we have one of the highest maternal mortality and fertility rates in South Asia and globally. To reduce maternal mortality, we need to develop a systemic and holistic approach that takes both the public and private sectors on board, and three concrete actions must be taken. First, we must develop institutional and legislative policies to ensure women have access to the required facilities and resources. An example of this is the urgent need to prioritise population control in Pakistan, which can only happen if we have political will and policies that improve women's economic, social and legal status.
The second is to have the available resources and infrastructure to execute those policies. Third, we see a major disconnect between top-level policy dialogue and realities at the grassroots level, both of which need to be aligned to address the most pressing challenges. I work a lot in rural communities, and I have seen health staff at primary health facilities overburdened with data reporting through duplication on paper and digital platforms. This directly affects the quality of care at these facilities as the staff cannot dedicate the time and care needed for their patients. So, a seemingly simple provincial policy decision on the quantity and frequency of data reporting has huge implications in the field, especially within the public sector network. To sustainably improve maternal and reproductive health in Pakistan, we need to develop a comprehensive policy framework with key stakeholders, including local organisations and partners who represent the needs of their community and the beneficiaries we aim to serve.
In Pakistan's current natural calamity, what steps is Safe Delivery Safe Mother taking to ensure the maternal mortality rate remains low?
In a country like Pakistan which already has a weak public health system, any kind of natural calamity further cripples the system. The floods this year were catastrophic at an unprecedented level, which has put extreme pressure on our frail health system. Due to these floods, women are either completely cut off from access to essential care, or healthcare facilities have been washed away in many parts of the country. In such circumstances, our primary goal is to reach and secure the basic needs of pregnant women by providing access to essential resources through which they can deliver safely in rural and remote areas.
I designed a cost-effective, safe birthing kit which contains essential items for pregnant women to deliver safely in low-resource settings. Our kit includes items like cord clamp, blade, diapers and panjeeri for the nutritional needs of the mother. We have distributed over 2500 birthing kits to affected areas in Baluchistan, KPK, Sindh and South Punjab and have ongoing weekly dispatch cycles. Our community-based approach is the most effective way to ensure outreach in these areas and to prevent maternal deaths. We collaborate with local organisations and provincial governments and set up medical camps through which midwives and pregnant women of the community are counselled on the use of our kits. For me, one of the highlights of our work is serving diverse communities with different cultural norms and languages. We ensure acceptance and use of our techniques and safe birthing kits through pictorial videos and informational pamphlets, which we have translated into all provincial languages.
What did you most enjoy about the BSc programme?
When I reflect now, I think there were many enjoyable aspects of my BSc programme ranging from academics to sports. My four years enabled me to develop my skills and push my boundaries. The first time I had to give three exams within 24 hours, I was completely unnerved, but having gone through that and done it, I realised that I was capable of so much more. I think the BSc programme was quite competitive and rigorous, especially ACF, which was great for building a solid foundation in business, finance and marketing, all of which are needed in every sector one works in. My undergraduate experience was formative for me as it enabled me to develop my skill set, hone my strengths and discover my interests. Beyond academics, I am very sporty, so I had a great time playing cricket and football and enjoyed hanging out on campus with my friends, which at the time was referred to as wailiyaan (probably not a cool term anymore).
Who was your favourite instructor, and why?
I feel that from my ACF degree, there were many favourite instructors because I took a range of courses based on my interests. At the time, Dr Zeeshan Ahmed used to be there, and it was amazing how he made corporate financial reporting fun for a person like me who mostly identifies as a non-finance person. Dr Inam ul Haq was also great; studying marketing courses with him was a fantastic experience. Learning through actual case studies and looking at a more practical side helped me understand how these skills are applied in real-world scenarios.
What has been the biggest challenge since leaving SDSB?
While studying ACF, I knew I would not pursue this as a career option. I think I got lucky and discovered my true passion for development and social impact somewhere along, so I was pretty clear on what I wanted to do. I did my postgraduate in public policy from the University of Oxford on a full scholarship, but between that and my time after LUMS, I was trying to figure out how to get on this academic and career path. For me, it was a very self-taught and self-learning journey with relatively minimal support, perhaps more so as a woman. At the time, I think this was back in 2010-2011; public policy was not a well-known field in Pakistan, so the biggest challenge was navigating how to get started and take that first step.
Your future goals.
At SDSM, we believe that maternal and reproductive healthcare is a basic human right and envision to make essential services affordable and accessible for all the remote and underserved areas of Pakistan. As we build on our phenomenal impact in the last four to five years, my goal is to continue the momentum of SDSM's work to reach more areas of need through a range of systems strengthening and digital solutions. We have grown tremendously by working closely with provincial governments and partners through effective public-private partnership mechanisms. We have trained over 1000 community health workers and skilled birth attendants who positively impact over 350,000 annual pregnancies and deliveries across Punjab and Gilgit-Baltistan.
Over 90% of women in our country are or will be mothers at some point in their lives, and yet a family-oriented society like ours does not ensure the right resources or access for women, with rural demographics showing the worst statistics. We need to provide facilities and supplies and train health staff to provide essential services while also raising awareness and creating demand in communities. I have been focusing on these important aspects through our work at SDSM, for which we have received a lot of support locally and internationally. We have won competitive global grants from Johns Hopkins University and USAID, so I feel we are on a great trajectory regarding the need in Pakistan and the areas we serve. Alongside, I work as a senior consultant and technical advisor to development sector organisations outside of Pakistan through which I share my expertise on a global platform, which I will continue to build further.
What career advice would you give management students wanting to work in the development sector focused on health and women?
My advice to management students, and I've had quite a few of them reach out to me seeking advice on how to work in the development sector – is to be bold, resilient and determined. This is a challenging sector to work in, with a lot of areas, especially in health and gender, being underserved in Pakistan and globally. Yet, this also provides the ideal opportunity to develop innovative ideas and implement urgently-needed solutions within local contexts, which push the boundaries of existing systems and processes. I tell them not to seek glamour in this work but to work hard and persist in their mission with determination despite the numerous hurdles.
I have in my career faced many challenges, such as ineffective policy-making and bureaucratic delays at regional, national and provincial levels, and local socio-economic constraints at the community level. I have viewed these as exciting growth opportunities to truly think differently. For example, I often go to communities where local customs and beliefs prevent access to essential healthcare and have to be navigated smartly through local ownership, cultivating leadership and creating community champions who provide tremendous support and strength to our life-saving work. My approach on how we address social norms is different every time due to stark cultural differences in communities both within and across provinces in Pakistan. So, I urge students to trust their instincts, follow their passion, let others challenge them and most importantly, challenge themselves! That is how you will create and own the most successful and impactful solutions in your work.
Any good books you have read recently?
I'm a big fan of Urdu poetry. I think my generation has lost touch with our own language. I love the works of Manto and Iqbal, and recently I recently enjoyed reading Bang-e-Dara, The Call of the Marching Bell, his first Urdu philosophical poetry book published in 1924.
What is your favourite memory of SDSB?
SDSB fuelled my curiosity in an open and collaborative environment with students from diverse backgrounds and perspectives, which was really helpful in shaping me into the person I am today. I remember being able to share my viewpoints without having to worry about reactions from others. Most importantly, I made some great friends from ACF, which I cherish to this day.